I'm about a month behind in posting our summer activities!  We went to this nearby annual event in July. I think we took Tyler once, though before he was born I used to go all of the time!  You know how that can be!  The food, rides and games are packed pretty tightly together so it wasn't too bad of a walk for me and there were tables were I could sit down when I needed to.
It wasn't as crowded as it's been in years past and Grant and I can only blame the economy. $8.00 for a sausage and peppers sandwich?  And by the time you figure out what the tickets cost to get on the rides, they wind up being three or four dollars per person!  Maybe that's just New Jersey?
Anyway, here's Tyler on his first "roller coaster" ride.  He's so fearless. We watched the ride first and some of the kids were screaming on it and had to come off but he said he wanted to do it.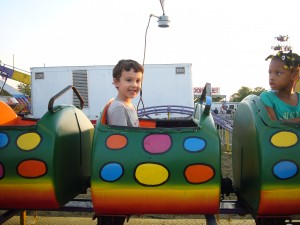 Tyler was equally brave on the teacups with me.  He loved spinning around really fast.  I had thought my days of rides were over but I can still handle the teacups!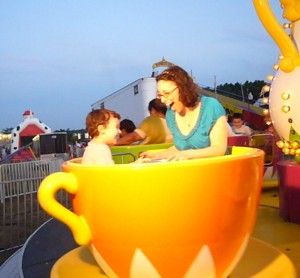 The last ride of the night was the giant slide which Grant didn't learn until they both got up there that a new law had passed since last year and you could no longer slide down the slide holding your child. I was down at the bottom wondering what the Hell Grant was thinking letting Tyler ride on his own! He loved it!   I think he takes after the both of us in our love of fast and wild rides!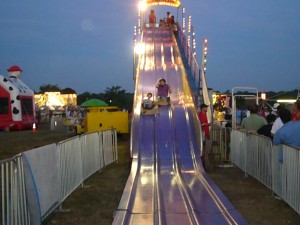 The fireworks, which are done by the same people who do the Macy's 4th of July fireworks, didn't start until 10:00 that night, so we decided against that.  We all had a great time!