I was given tickets to see this show.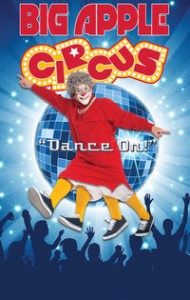 When I first got seated last night and took a look around me under the Big Top of the Big Apple Circus, I have to admit I thought to myself "This circus looks really small", but when the show started I soon learned that big shows come under small tents!
The Big Apple Circus is in it's 33rd season with the theme of this year's show being "Dance On!"  There is live music, great music, which had the circus performers as well as the audience dancing.  The circus includes, acrobats, monocyclists, juggling, and of course the Big Apple's own Grandma Clown.
One thing that has prevented Grant and I from taking Tyler to the circus before is that Grant is very against circuses that use wild animals such as elephant, tigers, or bears.  The Big Apple Circus only works with domesticated animals such as ponies, dogs and goats.  Here is their statement on the care of their animals.
This circus is a great one especially for little ones seeing a circus for the first time.  It is not too loud, just loud enough for Tyler and the other children to dance like crazy.  We loved watching the circus through his eyes, and we enjoyed ourselves too!
Currently the Big Apple Circus is performing in Manville, in Somerset County, NJ until October 11th.
Would you like to save up to $25 per ticket?  Just go online to http://bigapplecircus.org/mommyNJ.aspx and put in the code MOMMY11  in the promotional codes box in the lower left of the page.
Or, by phone, call 888-541-3750 and mention code MOMMY11.
This is a circus I feel your whole family will enjoy!