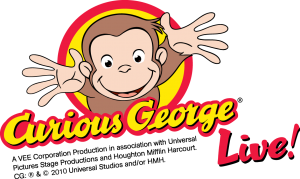 I have been given a four pack of tickets to see Curious George Live, although I have not seen the show yet.
Curious George was a favorite of mine as a child and I couldn't wait to read the books to my son. When I learned about the Curious George series on PBS I was skeptical.  It was drawn differently, of course, and how could it live up to the original charm of the books?  I watched it with my son and was very pleasantly surprised.  We both love the show, the stories are good and he can even learn a little something from them.
Now Curious George is starring in his own original live musical stage production!  He's on a mission to help Chef Pisghetti save his restaurant with some help from his friend, The Man With the Yellow Hat, of course!  It is 90 minutes of singing, dancing and audience participation!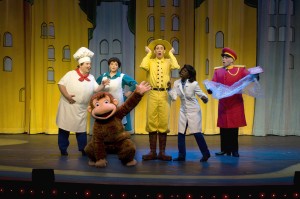 And now Curious George Live is coming to the State Theatre in New Brunswick, NJ and it's your chance to win a family 4-pack of tickets!
Tickets are for the Saturday, October 23, 2010 show at 3:00 p.m.  Please do not enter this contest if you, or the person you are trying to win these for cannot make this show, as it is not exchangeable for another day or time.
You have two chances to win! 1. Comment below and 2. Tweet this contest out.  Please let me know you have tweeted this by making another comment. So you will have two entries then, two comments.  The contest will end on Tuesday, September 28th at 11:59 p.m. EST.
I have extended this contest until Wednesday, September 29th at 11:59 p.m. EST, due to my blog being down for a time yesterday.  One more day to enter!
If you are not a winner but would like to attend the show the schedule is as follows:
Saturday, October 23rd, 11:00 a.m & 3:00 p.m.
Sunday, October 24th, 1:30 p.m.
Monday, October 25th, 10:30 a.m. & 3:00 p.m.
For more information contact The State Theatre.  To find out when Curious George Live will be coming to your town check out the website.
Good luck!
Congratulations to Suezette on winning the tickets to see Curious George Live!  Her entry was picked by random.org.
Thank you to all who entered!  If you would still like to go to the show, see the ticket information above.