(I was given tickets to see the puppet show by the State Theatre)
Yesterday the State Theatre in New Brunswick, NJ celebrated "Family Day". Activities included storytelling, making a butterfly mobile and a warm Herr's Hub City Big Top tent!
Here's Tyler meeting "Blue" from Blue's Clues and "Pablo" from The Backyardagains.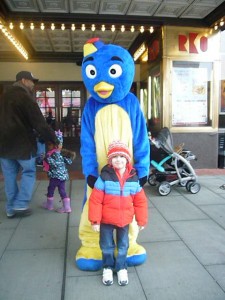 Yes, I know you can barely see his eyes, but it was darn cold out there!
And then we went to see the main attraction:  "The Very Hungry Caterpillar and Other Eric Carle Favorites."
I knew even I was going to like this!  The black light puppet show originated from The Mermaid Theatre of Nova Scotia.  Before the show started, an announcement was made that this was a "no shusshing" show.  Kids laughed and cheered as they watched their favorite books come to life, which also included Little Cloud, and The Mixed Up Chameleon.
Is it okay to call a show "indescribable"?  I mean it!  No words can do the enchanting show justice!  The music and narration were perfect and even Tyler said, "This is the best show I've ever seen!"  Okay, he's only seen a few shows, but still high praise, and a great review from a four-year-old!
After the show, the company held a question and answer period.  I was amazed to learn that there were only two puppeteers doing the whole show!  They brought out the puppets that the children wanted to see as well.
My thanks to The State Theatre for the tickets to a most memorable show.  Tyler went to school today holding tightly to his new The Mixed Up Chameleon book, still full of enthusiasm.
I wish that I could put up schedule for where you could see this wonderful show next but I did not see a current tour schedule posted.  I would advise calling or emailing The Mermaid Theatre if you are interested.