First, the amazing story.  In February I did a contest with Michelle of Hope in Bracelets.  The winner of the contest was a woman named Caren who wrote to me about whom she would be giving the bracelet to:
"My daughter's good friend was diagnosed this fall with an extremely rare form of Non-Hodgekins Lymphoma. She is being homeschooled for her entire high school senior year while she undergoes a series of chemotherapy treatments, each one nastier than the last. She can't have visitors because her immune system is effectively shut down until the treatments are over. These last few weeks have been especially tough for her spirtually, and somehow while googling something about jewelry I landed on your page and knew I had come to the right place.
The girl is Jewish. There is a prayer for the sick that is recited during the Saturday morning service, asking God to grant a full recovery to the person who is ailing. The phrase for "full recovery" is "refuah shlema" but in normal parlance, "refuah" is the operative term which means both "health" or "healing".
I would love it if (the artist) could make up a beaded bracelet that says:
refuah
It would be a constant reminder to her that she is in our prayers and that all we ask is for her return to good health. A health talisman, if you will, in a style that won't be scritchy on her wrist after long term wear.
My daughter can give it to her friend when she's between treatment series while they let her body "rest" for a couple weeks."
Michelle was more than happy to oblige, of course. In fact, she donates 10% of her proceeds to charity.
I have been so busy lately, between being sick, resting, recovering and repeating, etc., I haven't been able to even write to back to Caren my thanks for her update of the young woman who got the bracelet, whom we asked for all to pray or think good thoughts for someone so young to be that sick. Here is Caren's email to me from late May:
"I was the winner of the "refuah" bracelet that we ultimately gave to my daughter's friend who was diagnosed with a rare form of cancer. You'll be glad to know that she loved the bracelet and was very moved by the gift. The girl has handled the chemo treatments very well and is now in remission. She will have to have follow-up chemo for several years more in a maintenance capacity, but that won't stop her from going to college, which she will be attending next fall. Thanks once again for having your drawing!"
Things like this are what keep me writing my blog and are what makes Michelle, who is chronically ill herself, keep making bracelets.
And now the contest, the opportunity for you to celebrate summertime with something pretty and new!
I discovered Hope in Bracelets when designer Michelle followed me on Twitter.  I'm usually not into following product sites but when I took a look at her beautiful bracelets, I instantly became a fan.  The bracelets were very reasonably priced and when the one that I ordered came, I realized that they looked as good as they do in her pictures and were well worth the price!
Michelle has Rheumatoid Arthritis and Fibromyalgia and started her bracelets to bring awareness to these diseases in a stylish way!  She uses beads and ribbons to represent the various diseases' colors and adds words such as "Hope", "Lupus", and "Cure MS".  She will also custom make pretty much anything you want!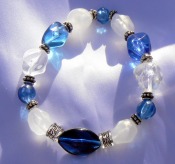 A couple of more reasons I love her site:  You don't have to be sick to enjoy her work!  She also has a beautiful selection of just plain or name beaded bracelets!  Plus, there's no need to worry if a bracelet or an anklet does not fit, as Michelle uses a stretchy sting material to strings the beads.  One size can fit all!
And now, you have your chance to win a beautiful anklet.  If your legs are already pretty, they will only make them prettier; if your legs could use some work, the anklet will draw alway from the flaws some of us ladies have, ahem.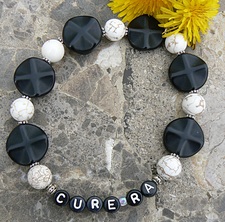 There are three ways to enter:
1. leave a comment
2. tweet this contest out
3. link it on your Face Book page
Each entry counts as ONE so if you do all three, please comment THREE times.  Some people do not get this concept, and I do try to help people whom I see have made a mistake, but ultimately you are responsible for your entries.
The contest will run until 11:59 p.m. EST, Wednesday, July 20th, 2011.
Good luck!