Courtesy tickets were provided to me by the Liberty Science Center.
My family along with our friend visited the Liberty Science Center on Saturday.  We headed first to the center's popular exhibition "A T. Rex Named Sue", which is a cast of the most complete Tyrannosaurus Rex fossil ever found.  I liked that you could get fairly up close and personal with Sue and there are also a lot of activities for kids to touch and even smell as they learn about dinosaurs.  It is a great way to introduce your little ones to dinosaurs. Hurry,  the last day is March 14th for this exhibit.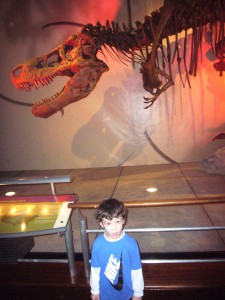 My biggest worry of the day was whether or not my newly trained son would have an accident.  I took him to the restroom and he freaked out because he was scared of the loud flushing sound.  Some woman yelled at him to stop screaming and I wanted to beat her up for yelling at MY child.  I couldn't get him to go potty so luckily I was able to find a mom who had a diaper in his size.  Now Tyler was saying he was hungry and wanted to go home.
But after some mac and cheese and a soothing cupcake he was ready for more adventures.  We next headed to  what I knew would be a hit with my active three-and-a-half-year-old, "I Explore".  This is an interactive exhibit designed only for children ages 2-5.  Tyler enjoyed making the Ball Machine work and making and playing with race cars, but I knew his favorite would be the enclosed climbing structure where you try to make it to the top by climbing, walking up ramps and pulling yourself up to the next level.  Here is his, victorious!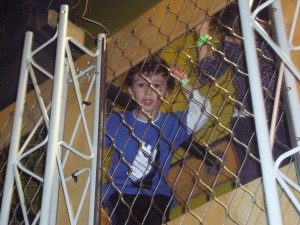 We also checked out the "Wonder Why:  Observe, Imagine and Create" exhibit, where Tyler especially enjoyed making giant bubbles, and the rock climbing wall, with some help from Daddy, of course: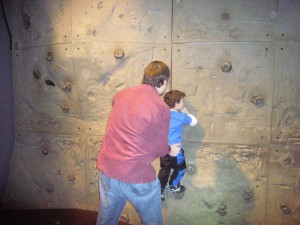 Our last stop was "Eat and Be Eaten", where Tyler could look at all the gross animals he wanted to. His favorites were the Poison Dart Frogs and the Spiders (reminded him of Spiderman), but there were plenty of snakes, turtles and cockroaches, among other beings.
What more could you do with a three-and-a-half-year-old except hit the gift shop for some dinosaur souvenirs (mostly lost already) and head home?
I really like the Liberty Science Center because there is something for children of all ages and there was plenty we could not get to because Tyler still doesn't have the understanding or stamina for some of the exhibits.  As your children get older, it's new for them every time they visit.
And wouldn't you know Tyler "held it" all day?  No peeing in diapers for this kid, although we do have to work on his fear of public toilet flushers.