This book was given to me at no cost as a member of the From Left to Write book club.  The opinions, though, are my own.
I was a bit hesitant to read Cowboy & Wills by Monica Holloway, a memoir written from a mother's perspective about navigating the challenges of raising a child with autism.  First, I am very sensitive about reading about children who are ill or special needs ever since I have become a mother, and secondly, because Tyler has Tourette's Syndrome, Anxiety and a possible OCD diagnosis.
And yes, there were some uncomfortable moments in the book for me when I read about Wills's special quirks; although Tyler has grown out of most, he still has some that make me wonder where this is all going to end up.  I could sure as heck relate to how Monica felt after she got the report on her son from the Pediatric Neuropsychologist.  How after seeing my son for an hour or so a Pediatric Neurologist made all these diagnoses about my child, the one I lived with 24/7.  I never finished reading the report. I thought Tyler could do better and so could Monica about her son, as well as and the therapist, aids and others that were committed to breaking Wills out of his autistic shell.
What really does it for Wills is when he finally gets his golden retriever puppy, whom he names Cowboy.  Through Cowboy, Wills is able to be introduced to the world as he introduces his "sister" to everyone.  He also finds a best friend to confide in.
This book did make me uncomfortable and did make me shed some tears, but I highly recommend it. Whether you are a parent with a child on the Autistic Spectrum or not, this book will resonate with you as a parent, pet lover, as a person!  It speaks about the challenges Monica faces raising Wills, while trying to overcome her own fears and anxieties.  It speaks about the complexities of marriage, made even more difficult while trying to parent a special needs child, it speaks about life and death in general.
If anything, it will bring you into a mind of any parent who has either a sick or special needs child and tell you what NOT to say to them and make you understand why they might be so sensitive to certain comments.  As a person with chronic illness, I certainly could relate to what people say to me!
Cowboy & Wills is not just a great book for the autistic parent, it is simply a great book.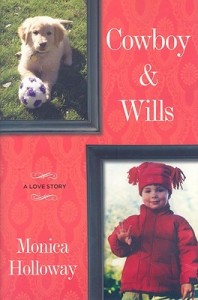 Want to win this book that was read only once by a woman who has no contagious diseases?  Leave a comment here, and give yourself another chance to win by retweeting my tweet.  A winner will be chosen at random by 11:59 p.m., EST  on Monday, September 13th.  Good luck!
If you tweet this, please let me know by commenting that you have tweeted this, thus you will have two separate entries.  I cannot be aware that you have tweeted this out UNLESS you leave me a separate comment.