Write a post inspired entirely by one of these words:
1.) Simple.
2.) Angsty.
3.) Excruciating.
4.)Enchanted.
5.) Bold.
Inspired by Mama Kat's Writer's Workshop.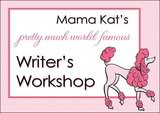 This week's assignment was a toughie.  I don't do well with one word titles.  Since nothing in my life is Simple, I suffer from anxiety so am always pretty much Angsty, I have felt Excruciating Pain (but who wants to hear about that?) and no memories come to mine when it comes to a Bold anecdote, I decided to go for Enchanted.
Americans are still having rough economic times, we are at war and this time of the year is stressful for everyone.  It can be hard not to get depressed when you are buying Christmas presents on your credit cards and have a list as long as your arm, wondering if you will ever be able to pull it off in time.  Are you burnt out on Christmas music yet that has been playing since Thanksgiving?
Since some of the above describes me, I look to my four-year-old son to take me back to that enchanted time when I was a child.  When you tried to stay up as long as you could, hoping to get a peek of Santa and his reindeer.  When you woke your parents up at 4:00 in the morning saying, "Is it time to open presents yet?"  I can remember wishing I could fall asleep from the day after Thanksgiving and wake up on Christmas Day.  Who could be expected to wait that long for that special dolly that you had asked Santa for?
When you loved taking a drive with your family to the houses who were decked out in lights, moving reindeer and Santa Claus.  Even the red and green traffic lights would make me think of Christmas.
And of course, decorating your own tree and feeling both the excitement and peacefulness at the same time for the weeks leading up to Christmas.  When I became a little older, I enjoyed reading by the lights of the Christmas tree.
This year is a big one for my son who is four-years-old.  Tomorrow he is going to see Santa Claus and on Saturday we will get our tree and spend the weekend decorating. Next week we will see The Nutcracker ballet.
We have a Santa wooden Advent calendar where you pull a number out and Santa slides a little further down the chimney, so Tyler can count down to Christmas every night.
I know Tyler is going to go crazy on Christmas Day, like a Tasmanian Devil opening one present after another.
And I will smile, ooing and ahhing over what Santa got him, and thanking God that I have a healthy child who can show me the spirit of Christmas and bring back enchantment to my eyes and joy to my soul.