I discovered Hope in Bracelets when designer Michelle followed me on Twitter.  I'm usually not into following product sites but when I took a look at her beautiful bracelets, I instantly became a fan.  The bracelets were very reasonably priced and when the one that I ordered came, I realized that they looked as good as they do in her pictures and were well worth the price!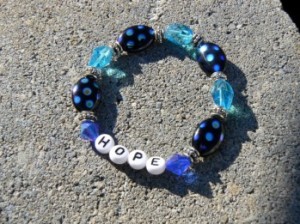 Michelle has Rheumatoid Arthritis and Fibromyalgia and started her bracelets to bring awareness to these diseases in a stylish way!  She uses beads and ribbons to represent the various diseases' colors and adds words such as "Hope", "Lupus", and "Cure MS".  She will also custom make pretty much anything you want!
And here's the other reason I love her site:  You don't have to be sick to enjoy her work!  She also has a beautiful selection of just plain or name beaded bracelets!
And now, you can win one!  There are three ways to enter:
1. leave a comment
2. tweet this contest out
3. link it on your Face Book page
Each entry counts as ONE so if you do all three, please comment THREE times.
The contest will run until 11:59 p.m. EST, Monday, February 21st.
Good luck!