I had my Food Stamp recertification interview on April 4th.  As much information and hours of work it took to get everything together, it wasn't good enough.  It figures, Social Services will pick apart anything in order to shut down your food stamps.  It seems they do not believe that we are living on the income we say we have, even though I kept saying to them, "Everything I can buy on a credit card I do, we are about $40 thousand in debt, we will be declaring bankruptcy in the next few months."
They sent me home with a check list of what we needed to get back to them "as soon as possible".  As in, as soon as my child with his hurt arm goes back to school after six days, as soon as I am not in pain, as soon as I feel able enough to be upright, as soon as the laundry is done, and as soon as the bills are paid.  Taxes?  Forget that.  We filed for an extension.  The house?  In a complete shambles, even more so than usual.  Grant and I have been working on it as much as we can.  Plus there are others we need to rely on to get things to us for the recertification.
This isn't the first time we have had to battle for food stamps.  If you do a search for "food stamps" you will see lots more good times.
Here's what they want from us, seriously:
Three months (January, February, March) worth of  income statements.  I made $250 during that time.  They don't believe it, they want proof.
Three months worth of every checking and savings accounts we have and three months of what is now our now defunct IRA.  Every deposit must be "explained", like if Tyler got a Valentine's Day check as a gift, we have to tell them that.
Three months worth of every credit card statement that we have.  We have at least ten credit cards.  I had to run to Staples and buy another $50 worth of ink.
What we pay for rent on our apartment, and what we will pay come next month when our rent goes up
TWO letters from our doctor stating that we are disabled and why Tyler needs to be in daycare.  We have the same doctor, but one letter wasn't good enough, they need two.
Another letter from my mother telling how much money she gives us each month.  The other one was not complete enough, apparently they needed her name, rank and serial number.
Hopefully all of that will count for the last thing needed.  Expenses Exceed Income Situation. (Please verify how you are meeting your living expenses (gifts, loans, unpaid bills, etc.)
I'm not exactly sure how we are meeting our living expenses.  God?
I have assembled about 75 pages of documentation for their review.  We are still waiting for the letters from our doctor.  I don't know how long it will take the wheels of bureaucracy but I am pretty sure that come April 30th our food stamps will be shut down.
Sure, most likely we will be reinstated proactively, but in the meantime, how will we buy our food?  As I said, our credit cards are mostly all tapped out.  We depend on the money we get from Food Stamps each month.  I guess it is back to supplementation from the Food Bank and that God guy again.
Although my Food Stamp worker thought she sent me home with a check-list that she thought was simple, for two chronically ill people, nothing is ever simple or easy.  My every spare thought and action has been devoted to completing the documentation asked for and we are still not going to make it.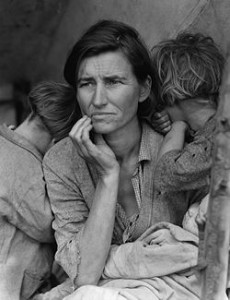 Source:  Migrant Mother