Does this doll look familiar to you?  If you were a little girl in the '70 like I was, you are probably saying "Oh my God!  It's Drowsy!"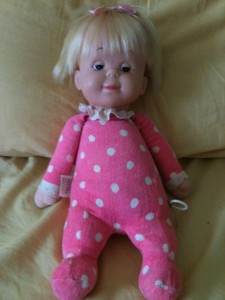 If you are older or younger, you missed out!  As you can see this is one tired little Dolly, who is so sleepy.  If you notice she has a string where she says several phrases like:
"Mommy, I wanna 'nother drink of water!"
or
"Mommy loves ba-bee?"
I had her when I was a little girl and I loved her to death.  I lost her when I was out with her one day but I never forgot about her.  On Sunday night, I just happened to look for her on eBay and there she was.  With 12 minutes left to go in the auction I became the highest bidder and won her for a great price!
Now she is mine again.  It's amazing how helping that scarred little girl that still hangs around in my mind and heart can make me so happy, even though I am now forty-one!  And what could be a more perfect doll for someone who is drowsy most of her life, right?