Robin Maria Pedrero happens to be a fellow Tweeter that I follow.  I honestly don't remember following her, I have followed over 2,200 people, but one day I went to Twitter and at the top of the page was her tweet listing a piece of artwork called "Social Network":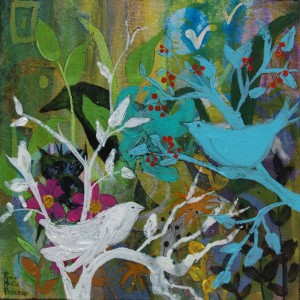 I had to click on a title like that!  And when I did I saw her work, besides the title, just how beautiful it was I had to possess it!  It is so cliche to say that her art "spoke to me", but it did!
That was no news to Robin who said, "I find many people turn to my art to feel uplifted. Several women with chronic illnesses have told me the relief and comfort they feel having my art to look at in their space or even in their stream on Face Book."
The winner will have their choice of anything in Robin's Etsy shop up to a $25 value.  I am also pleased to say that even if one does not win, Robin's prices are budget friendly too.
The contest will run until Tuesday, August 30th at 11:59 p.m. EST, and there are three ways to win:
1. Leave a comment
2. Tweet out this contest and let me know you have done it by entering again and saying something like "I tweeted out this contest."
3.  Put this contest on your Face Book and let me know you have done it by entering again and saying something like "I put this contest on my Face Book."
Therefore, if you do all three, you will have three, separate entries in my contest, or three comments.  I cannot be any more clearer, I think, and I cannot be responsible for babysitting my entrants, although I do try, sometimes.  If you did three things it is your job to let me know you did.  Okay?  Okay!  Whew, I hate to get mean, even for a little bit, but this is a contest after all and it is serious business.
Good luck!
Congratulations to dysfunctional mom!  Her #4 entry was chosen at random by Custom Random Number Generator at mathgoodies.com.
Thank you to all who entered!  Even though you may not have won, I do encourage you to check out Robin's Etsy store or her Face Book page.  For a very reasonable price you can bring a lot of beauty to your home!  
Also, many thanks to the fabulous Robin Maria Pedrero for allowing me the honor of featuring her art on my blog!