Tyler's fifth birthday (and LAST birthday extravaganza!) was this Saturday and a good time was had by all.  I was so scared that I would not get through it.  The day before, my fever was 100 degrees before I stopped it with a fever reducer.  I was having my period which makes all of my illnesses, especially the hypermobility problem, twice as bad.  I prayed to God and asked my friends, including some of you, probably, for prayers, good thoughts and Spoons.  I mostly just wanted Tyler to enjoy his party without him having to worry about me.
On Saturday I felt okay.  My joints were feeling very unsteady and so I bandaged my ankles, knees and wrists.  I was self-conscious about the weight that I have gained and looking like a mummy but it's not about me, is it?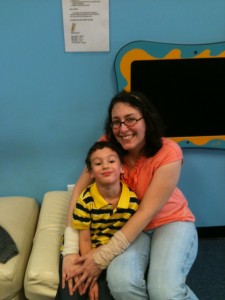 Tyler only knew four of the kids, the rest were the kids of my friends, new and old.  I loved watching Tyler having fun but I also enjoyed catching up with two of my friends whom I have known since junior high school and high school, and getting to know my new friends better. Tyler also has made some close friends and I have become friends with their moms as well. Seeing my weight gain and my bandages, my Invisible Illnesses becoming Visible, I think some of the people who did not fully understand before finally "got it".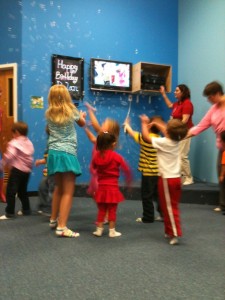 I was really proud of Grant.  I know how hard it was for him to even be there and not only was he there, he was the only adult to go through the jungle gym with the kids…FOUR times! (I thought I might have to call the E.R.)   Honey, I love you so much!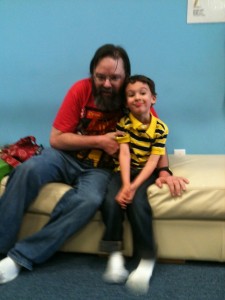 The highlight for all was that, can you believe it, Spider-Man came to TYLER'S party?!  I told Tyler that Spider-Man was webbing his way from New York to our township in New Jersey. When Spider-Man came out Tyler shouted, "He came!  I knew he would come!"  I was so happy that I was able to make my child feel so special, the way he deserves to feel.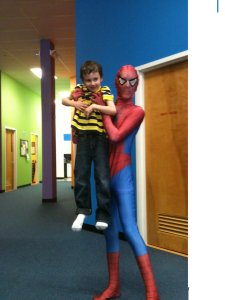 The only downside of the party was when Tyler fell from his birthday seat during pizza time, biting his lip.  He ran to me, exhausted, crying, and hurting.  As he sat on my lap with an ice pack, and I rocked and comforted him, he said to me, "I don't care about all of this stuff any more.  I just want to go home and open my presents."
Oh, well.
Into everyone's life some tears must fall or some bad times must happen, or else how are we to know joy and happiness when it comes?