Today is my birthday and it just happens that it looks like we are going to set a record in NJ for we are expecting up to three inches of snow, which never happens here and is never happened on my birthday, and I should know.
Today I am 42, and it's not the age I turned, and I don't hate or dread that number, it's just that once again, I am so sick and in so much pain on this day.  I have the unfortunate luck of having been born in the season of Autumn.  For me and so many others like me, Fall is always my worst season and I dread it even more than Winter.  My body doesn't like the sweeping temperatures, going from 35 degrees to 65 degrees, the really hot days with the sudden cool days.  If I am not flaring already, I start to, if I am in a flare it only gets worse.
Through the past years I could look back on Halloween or my birthday and remember that I would be having such a good time…if I wasn't in for the pain.  For several years my township would have this Haunted Forest, before they became afraid of lawsuits, I guess, and shut it down.  It was one of the coolest Halloween things I had ever seen, it was put on by the local high school kids and was different every time.  I have an image of going to it on my birthday with Grant despite having a Costochondritis flare, before Tyler was born.  I wanted to go anyway despite being sick, I loved it so much.  But now when I remember it, I remember standing in line in the cold and it hurting so much to breathe.  That is my main memory of the event.
Last week, due to gaining so much weight because of the as yet undiagnosed hormonal issue, I had to go shopping for pants and shoes because nothing fits any more.  I went to DSW Shoes and I told one of the associates about how swollen my feet were and how I needed a sneaker with ankle support because sometimes I cannot walk, and she was very helpful in giving me advice about the type of shoe I needed.  To my surprise and dismay I fit into a size 11!  Last year I was a size 9.5 and before all of this started I was a size 9. I had known my feet were swollen, I had worn flip flops all summer, but not to this extent.  I was kind of shocked as I had first tried on a size 10 and moved my way up.  I was walking around with my size 11 sneakers and the woman came over to me.  "Are they comfortable?"  I told her yes but what I really wanted to say is, "You know what, my feet are NEVER comfortable, even when they are bare, they hurt every single second of my life!"  The size 11 was as good as it would ever get.  I also picked up a shoe which I was a size 10 in.  Other than these two pairs of shoes, I don't have another shoe in my closet that fits.
On Thursday I went to the Rheumatologist because the drug that I have been taking for three years to keep the Lupus/Rheumatoid Arthritis in check is making me sick.  So now I am flaring and have no medication to take for it.  The doctor wanted to run all the blood tests for Lupus to see where I was in order to figure out the possibilities to treat me.  He examined my very swollen fingers and wrists and we talked about my visits to the endocrinologist's and how frustrated I was at being undiagnosed.
"With everything you have, the longer you live, unfortunately it is common that you will receive more and more diagnoses."  That it was just the way it is.
"I don't mean to minimize what you have but at least you are still here, you know?"
That's it?  All you have to tell me is that at least I'm still HERE?
I told him, "I know I am still here, but I am miserable every day of my LIFE."  "I know you are", he said, sympathetically.
I know people have it worse, that right now people with Lupus are in the hospital fighting for their lives.  I know people have died from some of the diseases I have, someone I know just died this month.  But is that the best I can say about my life, that at least I am still here??
I don't want to be grateful that I am still here, I am tired of being grateful that I am still here. Being here is not what it is cracked up to be.  As I go into my 43rd year I am facing another year of constant pain, and another long journey to find out what is wrong with me now.  
Is it too much to ask and hope for that there should be more to my life than that I am just here?  For once, I would like to have something that resembles a normal life.  A day without pain, may I dare say a week?
On my birthday, is it wrong to not be grateful that I have made it to the ripe old age of 42?  
On my birthday, is it wrong to wish for life to be more than just existing?  
On my birthday, today I am so goddamned tired of being grateful that I am just still here.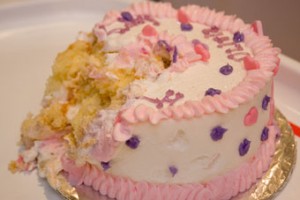 Photo courtesy of 5 Minutes For Mom