Despite my worries about how I would be able to handle the normal rites of Christmas while being sick and in the middle of a bankruptcy, our trip to see Santa was a success!  I even got a handicapped parking spot at the mall!
As we waited in Santa's Enchanted Forest on line, Tyler had all kinds of emotions running through him.  First he wasn't sure he wanted to sit on Santa's lap, then as we got closer he got very concerned about his appearance. "Do I look clean?" "Does my mouth look clean?" "Am I drooling?"
Drooling?!
The mall we went to had a great Santa.  I gave his assistant Tyler's name and when it was his turn Santa said, "No, this can't be Tyler, he got so big in just one year!"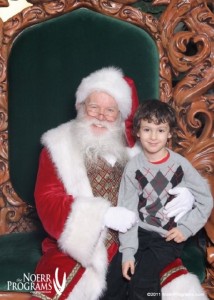 I heard a little of what they were saying and it made me kind of sad.  Tyler told Santa that he wanted another Leapster Explorer, that his had broken because he had thrown it on the floor so many times.  "I got angry", he said.  I heard Santa say that getting angry once in a while is okay but that he has to be careful when he gets his new computer.  I think this Santa is better than the therapist I am taking Tyler to! Hmmm.
After taking the picture and getting off Santa's lap, Tyler told me he only could remember one thing he wanted and I told him that was okay, Santa knows what else he wants.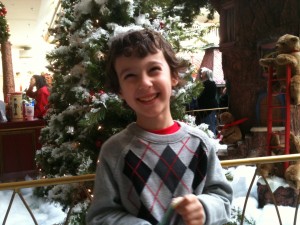 When we came out of Santa's Enchanted Forest I took this picture.  Tyler just seemed so happy that I even decided to make it our Christmas card this year.  I entitled it "Have a Holly, Jolly Holiday!"
And I sincerely hope you do.
Love,
Emily