"What are your plans for the fourth?", is the question on everybody's lips this week.
For people with chronic illness, holiday plans can be a challenge. Do you participate in the holiday, the barbecues and the fireworks, and then spend the next two days recovering? Do you choose one part of the celebration of the fourth, or do you just skip it all together?
Tyler, Grant, Jacques and I plan on going to a park to barbecue and then watch the fireworks. My concern, more so, my fear is whether I will be able to get a nap that day and how I will feel over the next day or two.
Whenever I participate in something like this, I have to ask myself, is it worth it?
If you are hosting a party and have a chronically ill family member or friend in your life, don't forget to include them, even if they always say no. They still want to be asked. Even if they can come for an hour, tell them you would love to see them. Being chronically ill is horribly isolating. Don't push them, though, respect their decision, if they tell you they cannot come.
How are you handling the holiday? How will it affect you?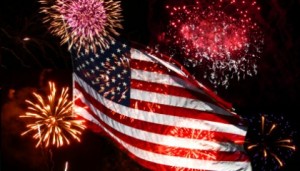 Photo credit: Farmer's Almanac