Inspired by Mama Kat's Writers' Workshop.

1. Throwback Thursday: Choose a photo from a previous May and write a poem or a blog post.
When I found this post from May of 2013 I was really glad I saw it because I need to be reminded.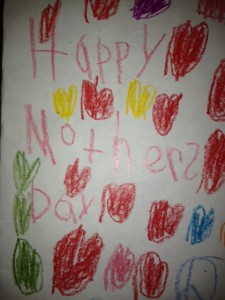 It's part of Tyler's Mother's Day card from when he was in kindergarten. I was suffering from depression (as I am now) and feeling guilty because I wasn't able to play with him or take him places as much as I liked. A lot of mothers feel guilty if they can't spend quality time with their children, but when you are a chronically ill mother, the guilt is tenfold.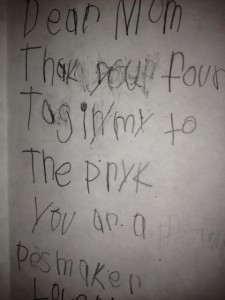 The card says:"Dear Mom, Thank you for taking me to the park. You are a peacemaker. Love, Tyler".
I was stunned. I was so upset that I thought I wasn't taking my son to the park enough and that was the thing he remembered the best.
It made me realize, maybe I wasn't such a failure as a mom after all. That Tyler loved me for who I am and that what I could give him was enough for him.
With summer vacation two weeks away I will try to be confident that my best is good enough for my son who loves me unconditionally, despite my disabilities.