Special thanks to Mama Kat's Writer's Workshop.
1. Throwback Thursday: Choose a photo from a previous May and write a poem or a blog post.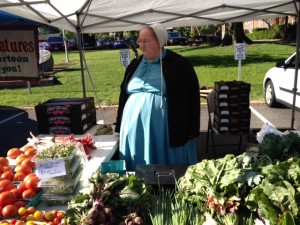 From May to October is our town's Saturday morning farm market. This photo was taken May, 2013.
As you can see, there's fresh fruits and vegetables, Mennonites, baked goods, plants and arts and crafts, just to name a few. Oh coffee, can't forget about coffee!
I haven't been there for a long time because I've been depressed. I also get anxious at the thought of going outside.
That's what anxiety and depression do, they can rob you of your life.
But this year, I may just make it. My therapist and I worked out schedule of sorts of two weeks. Most days I must go out and do something, but sometimes I get a day off and get to stay inside.
I also have this thing that I have to shower before I go out, but sometimes I lack the motivation. My therapist says I don't have to shower every single day, it's okay to sometimes not shower.
This would be a nice, romantic thing to do with Jacques on a Saturday morning.
I'm setting this as one of my goals to overcoming depression and anxiety and I will let you know if I make it!