(I am working with SmartTalk in exchange for the opportunity to see these speakers at no cost to me, and for promotional opportunities for my blog.  I am not being monetarily compensated.)

If you are looking for a unique, unforgettable gift for a woman who is special to you, SmartTalk Connected Conversations is a series of five different shows with five individual women who have done amazing, inspiring things with their lives.
The series will be coming to the cities of Cincinnati, DesMoines, New Brunswick, NJ, Tampa Bay, the Twin Cities, and Wilmington, DE.; and the speakers include Arianna Huffington, Andie McDowell, Dr. Jane Goodall, Marie Osmond, and Sigourney Weaver.  Those interested in more information about the series or in purchasing tickets can visit the SmartTalk website.
And if you can make it to The State Theatre in New Brunswick, NJ, Mama Sick is giving away two tickets to see Dr. Jane Goodall for the evening of Monday, January 16, 2012. Dr. Goodall will not only talk to you about her lifelong work with the Gombe chimpanzees, she will also speak about the current threats to the environment facing our planet and why she believes we have a reason to be optimistic in these complex times.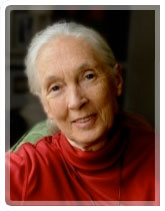 Entering is easy and you have three chances to win:
1. Leave a comment below.
2. Tweet out the contest.
3. Post this contest on your Facebook wall.  
If you tweet and Facebook the contest, please let me know by leaving two more entries.  In other words, if you have commented, Tweeted and Facebooked, you will have THREE separate entries.  
The contest will run until Wednesday, December 7th at 11:59 p.m. EST.  A winner will be chosen at random.
If you are not a winner in the contest and are still interested in purchasing the series, from now until December 15th you can receive a 20% off discount by calling the State Theatre at 732-246-7469 and mentioning the code SANTA!
Even if you do not live near the State Theatre, there are many opportunities to win tickets and receive discounts to the series in the other cities by going to SmartTalk's list of bloggers!
And, from now until December 15th, SmartTalk Women is giving away a series of tickets if you "Like" them on Facebook or follow them on Twitter.  One winner from each state will be selected!  
Good luck and Happy Holidays from SmartTalk Women and Mama Sick!