A couple of weeks ago I had thrown my back out. Jacques had to push me in a wheelchair for my doctor's appointment. My x-ray was normal so I am going to start PT next week.
We had planned a trip to see our cousins but I didn't know if I could stand the pain and make the drive with just Tyler.
It was decided that Jacques would drive Tyler and I up and he would stay in a hotel so as not to interrupt "family time." When my cousin heard that that was the game plan she invited Jacques to stay as well!
The trip up was so painful but it was great to see two of my cousins who are sisters. It had been nine years since we had seen them, Tyler was a toddler back then!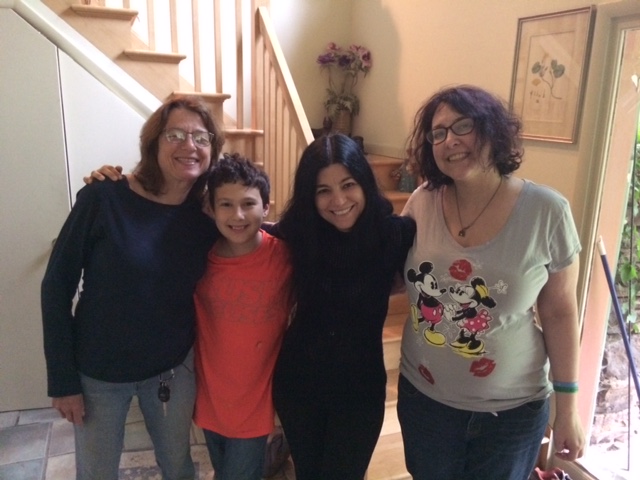 Lisa, Tyler, Diane and I 
Lisa has a beautiful home that is completely surrounded by woods. Which would have been peaceful except that she has four dogs and four cats! Tyler loved all the animals. He had to keep an eye out for his stuffed Eeyore because the dogs thought it was a toy for them!
Because of my back pain I decided not to go to a dog park. But I needed a rest and I needed a heating pad! Using the stairs was near impossible and I was so thankful that I had Jacques to unpack and pack our things!
At night we went out for  a wonderful Italian meal.
It was too short a trip but my cousins were leaving to visit their parents so we started on the trip back.
I had a great time but the memory of my trip will be forever colored by the horrendous back pain I was having.
Have you ever went on an outing or trip and your disability or pain took away from your memory?