Kidfresh frozen meals was started by a dad with two young children when he looked for convenient, healthy meals for kids and discovered there wasn't much out there.  Most quick meals for kids are loaded with fat, sugar, sodium and artificial ingredients.  So Matt Cohen, along with a top chef and a pediatric nutritionist put together a line of frozen meals that are 100%natural, full of hidden veggies and yummy kid favorite recipes!  The containers that Kidfresh comes in are BPA-free and phthalate-free containers and are recyclable as well!
This week Kidfresh is getting into the spirit of things with their Kidfresh Halloween Costume Contest! Just post a photo of your child in their costume by 11:59 p.m. EST on Friday, November 5th and you could win a Flip MinoHD Video Camera! See their Facebook page for full rules.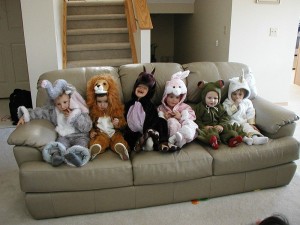 So that is Kidfresh's contest and here is mine.  I am giving away four coupons good for free Kidfresh meals!  This is a great chance to have your children see for themselves how yummy the meals are, plus give mom and/or dad a break from cooking and know that your child is still eating healthy!
In order to to enter, go to Kidfresh's product website and let me know which meal you think your child or children would like the best.  Plus tweet out this contest and let me know in a SEPARATE entry.  You will then have two entries.  To avoid confusion, this contest will also run as long as Kidfresh's Costume Contest, until Friday, Novermber 5th at 11:59 p.m.
Kidfresh is not yet available in every area yet, so please go to their website, enter your zip code and see if your supermarkets carry them.  Please do not enter if you cannot get Kidfresh where you live.
Good luck in these two contests in one, from Kidfresh and Mama Sick!