You know how when you dress your babies up in Yankee clothing or Dallas Cowboy clothing  it is the first step in making sure your child will grow up to like "your team"?
I'm not sure when Tyler got his first Pez, but he didn't need any more reinforcement than that.  He was hooked!  Now he has over a hundred Pez dispensers!
Here are just some from his "collection".  His word, not mine!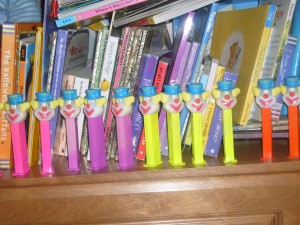 It's quite amusing for me to see him in his room, sitting in his glider and just simply admiring them. And at about $2.00 a Pez with candy included, it's not a bad hobby to get into, although some rare ones can run up into the thousands of dollars!
The man that started him on Pez is his Grandpa.  Collecting for about 20 years, he has a few THOUSAND or so, and always jokes that they are worth more than his 401K!  His "pezzatorium" fascinated Tyler and whenever you couldn't find him in their house when we visited last month, he was usually in there, his face a picture of pure wonder and bliss!
Grant collects Pez too, only he just focuses on the clown named Peter Pez.  Grant's father was best man for our wedding and for a best man gift Grant bought him a Green Hornet Pez for over two hundred dollars!
At age four, who knows if Tyler will lose or gain interest in collecting Pez, but for right now I am just enjoying Tyler being so into his hobby!