The following was heard at and around the Thanksgiving table where we went for dinner:
1.  "You do that again to me and I will take this knife and stab you!"
At the table, said by a man to his five year old daughter.
2.  "It would be cool to get one of those 3D television sets.  Then you could watch porn and watch the guy shooting right at you."
At the table, said by the same guy, as we watched the football game as we ate dinner.
3.  "This is what I want to get tomorrow.  We have too many rabbits outside our backyard."
Same guy, pointing to a Black Friday ad for a gun.
I can't make this stuff up.  This man is not a blood relative and made me extra thankful for my husband.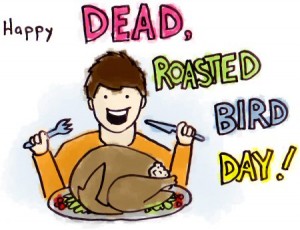 Photo courtesy of slapupsidethehead.com