Tonight you sleep next to me because you spilled water all over your bed.
You have trouble getting to sleep because something I have read to you has scared you.  It amazes me what actually scares you and what I think should scare you.
You want to sleep with the lights on but I offer to hold your hand instead.  As we lay there in the dark holding hands I know our times like this are numbered, even though you are only five.
"Do you feel the circle of love that goes around between us when we hold hands?" I ask you.
"No, I don't feel it."
"It goes around and around like a mother's love for her son, around and around like a circle and endless.  You won't always want to hold my hand so every time you do like this, I treasure it."
"No that's not true, I always will want to hold your hand!"
"Okay, honey, you can always hold my hand.  You can stay with us as long as you like.  You can always be with us."
"I won't ever want to leave you, I want to live in this house forever."
"Of course, you never have to leave us, you can live with us as long as you like."
I say these words to you, knowing that some day it will not be true, so I treasure this time in your life when you think it will be.
I thank God and Jesus once again for giving me you, the most beautiful and best boy in the world and while I am thinking about it, whispering my prayer of thanks in the dark, you have fallen asleep peacefully besides me, still holding my hand.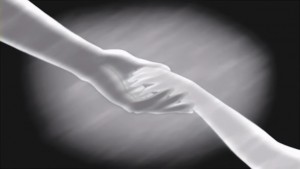 Source: Metanorn.net