After some successful Black Friday shopping, Tyler and I headed to Marc's to do our weekly shopping.  Marc's is, to me an Ohio wonder as their groceries are about 50% less than the local Giant Eagle's and a third of the prices that I paid back in New Jersey.
You do get what you pay for.  The aisles are cramped, the lines are long and there appears to be some sort of anarchy at work there.  But mostly no one minds because their either love the bargains they are getting or cannot afford to shop anywhere else.
It is another rough month for our family, trying to make our money last until I get my disability award.  It has been difficult with both of our cats absolutely needing veterinary care and Tyler and I having to buy clothes and snow boots for a Cleveland winter.
Before shopping, I estimated the price of what was on my grocery list and thought I had enough money.  Marc's only accepts cash or check, which doesn't really matter as I only have cash.
As the cashier was ringing up my purchases, I started getting worried that I would not have enough.  I tried to get her to stop ringing but she didn't.  We were next to one of those claw games where you can win an Angry Bird, and Tyler was begging me to let him try.  The total came up to $63.99.  I gave her sixty dollars.  It was time to turn to the change I had.  Would I have $3.99 in change?  I nervously started counting my quarters, Tyler continued to beg me to let him try the claw machine.  I came up with $3.00 in change, the other .99 looked doubtful.
From behind me I heard, "Vy?"
"Excuse me?," I said.
"Vy don't you do this at home?  That's all I want to know, Vy you don't do this before you come here?"
I turned full around to him.  I faced him.  I said, "Why don't I do this at home?  Because I am homeless, bankrupt and uninsured, okay?  I am not counting my pennies for fun, I am counting them because these are all I have!"
I turned back to counting.  The cashier was helping me.
"I am sorry", he said.
"That's fine", I said. "Perhaps next time you will think before you speak."
I took away a Gatorade. (I somehow feel the need to justify my purchase to you.  Grant and I need Gatorade because our mouths are extremely dry from our medications and Gatorade seems to be the only thing that works for us.)
"Here, now I have enough money to pay."  This seemed to confound the cashier and I had to explain to her why I now had enough.  She fumbled with taking the item off and coming up with the new total and I feared the manager would have to be called.  I was so angry, all I wanted to do was leave.  Meanwhile Tyler was still screaming for an Angry Bird and I can barely tell him "no" or "maybe another time".   I didn't have the time to be able to explain to him how these games are almost impossible to win and that they mostly waste your money.
The cashier finally got it right and then I heard, "Here, take this."  I turned around and the man was holding out a $10 check.  I could not understand him fully but he said something like I am sorry, I hope this helps or this may not be too much, just a little something for you.
I looked at this sweaty, slimy bastard and I took the check and said thank you.
Nothing would have pleased me more to tell him where he could put his check but the truth is $10 means I can get Tyler the game he wants for Christmas.  I took it for him.
I am tired of constantly having to prostitute myself for my family.  I will keep doing it because I need to but it does take a toll on me.  Every time I swallow my pride or get treated poorly on a daily basis because I am uninsured, homeless and sick, part of me does die.
I know there is light at the end of the tunnel.  I received a fully favorable decision on my disability case in the middle of October but as it stands I have heard nothing back, and indeed was told not to even bother them for at least 30 to 45 days.  November 29th will be the 30 day mark and I will be calling.  Where is my money?  I have been waiting three years to be to be told that yes, the government now believes I am disabled and I continue to wait, a prisoner of their whim, as to when they decide to pay me.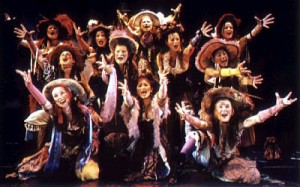 "Lovely Ladies", courtesy of ukstudentlife.com