Ever since I became pregnant I had become a fan of the Willow Tree Figurines, getting the first one of a pregnant woman, then a mother holding her little baby and a few more, until Tyler became able to smash things.  He broke the one of the man and woman holding their newborn baby who is still wearing his hat from the hospital, and I put the rest away.
I had a rough week last week and for the past couple of days I've had what I think is a stomach bug.  It's not the worst virus ever but with everything else I've got going on, it's put me over the top with depression over being sick.
Grant has continued a tradition started by his father called a Sick Prize.  Whoever is sick, gets a trinket of some kind.  Today, after at least a year and a half of not buying anything breakable, he bought me a figurine called "Hope":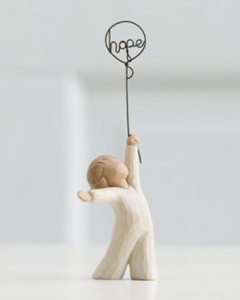 It is my little boy, holding a balloon for his mommy, reminding me why I am doing this, why I am here.  My son gives me hope and he is indeed my hope.