Grant grew up with fish and little frogs all of his life so last week, Tyler for the first time got to pick out pets of his own.  Deciding on Betta fish due to their reputation for heartiness, Grant took Tyler to the pet store and Tyler chose a red Betta and a blue Betta.  As pets go, fish are relatively easy on the budget and we got a really neat fish tank which gives the illusion that the fish are together but are acutally split.  Male Bettas are known to fight.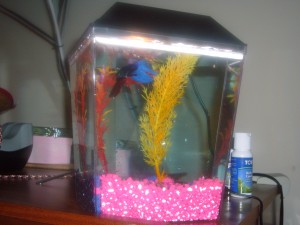 It's a nice way for Tyler to develop a sense of responsibility and caring for animals.  With Grant or I, he feeds them twice a day and says Good morning, How was your day, and Goodnight to them.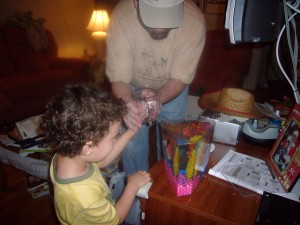 As for their names?  I reminded Tyler of the beloved Dr. Seuss book and said that Red Fish and Blue Fish are perfectly good names!