This post was inspired by Mama Kat's Writer's Workshop.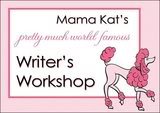 Tell us about a day you were sure you wouldn't get through.
When I saw this writing prompt something immediately came to mind, the worst day of my life. I didn't know if we were far enough away from this nightmare, but I knew that someday I would want to write about it and be connected through a place where this story would be seen and maybe shared, and I knew a lot of people take part and read Mama Kat's Writer's Workshop. So I asked my husband for permission, asked because it was his nightmare too, and he has finally agreed to let me tell my story. Some who have known me may already know about it, but most of you probably don't, and it is a story that deserves to be heard.
Last year in early January, the Director of Tyler's daycare took it upon herself to get some weekend "help" for us. With my husband and I being disabled, weekends can be hard for us, but certainly not impossible. She had never asked our permission to do this and I had made the mistake of telling her TOO MUCH about our lives. What came from her call was that children's family services had just started a new program that was seeking to help families in need. We were a little nervous but were told by the Director and by the state caseworker that we shouldn't be worried.
The interview with the case worker in January seemed to go well and she felt we could be helped. However, in the evening, the case worker was back. Everything we had said in the first interview was turned against us. She started to ask medical questions, wanted to know who our doctors were and what medicines we were taking. Grant was not home at the time, it was just me and two-year-old Tyler, who cuddled in my arms. I didn't know why this was happening, this was a voluntary program! But she told me we were now under investigation! I was in shock, who would have registered a complaint against us? What evidence was there? She even "offered" me the option to take Tyler away that night and put him into foster care if I felt he was too much for us! Of course I refused! She told me that due to our low income and disabilities that we were "at risk" to abuse Tyler in the future!
Two days later we called the caseworker and she had changed her story. She said that there was no complaint against us, that there was no investigation going on and that Tyler was in no danger of being taken from us. We taped this phone conversation. We told her that since there was no investigation going on and that this was a voluntary program for services that we declined the program. We thought that this frightening turn of events was over and that we would never hear from Social Services again.
On Friday afternoon, January 24th, Tyler was taken from daycare by Social Services. He was woken up from his nap, taken by someone he didn't know and taken to a doctor to check for signs of "abuse". When the Director of the daycare called me she was near to tears, apologetic…but I just started screaming. Tyler was kidnapped from us, that was the only word for it. I had to be heavily sedated and my friend came over to stay with us, as well as my mother. Having a friend in Social Services in another state, we had prearranged for my Aunt and Uncle to be Tyler's foster parents as a worst case scenario, so he was sent there although he did not know them very well. Social Services did not tell us why they had done this. A child is supposed to be in IMMEDIATE danger for them to be able to take a child away. We were to have a hearing on Monday, but we had no idea what we had done. I was not even allowed to talk to Tyler.
Losing Tyler and my pain over what he was going through, I feel like it was one of the closest things you could come to to actually having your child die.
We went into court on Monday and that was the first time we had a chance to read the "complaint" against us. It said that due to our disabilities we were not diapering our son nor were we feeding him! And those were the good parts. It was all a bunch of horrendous lies! The lawyers had to speak with each other and we had to speak with our Public Defender who was very good. She had to explain everything to us and we had to tell her that this was all based on a misunderstanding. We got such a late start that the judge said to hear this case would put her behind schedule and she wanted to move it to tomorrow! I was giving it everything I had, it was quite a strain already; how could I do it again: getting up at 6:30, doing my hair and makeup, putting on nice clothes, (all which my friend helped me do) walking so much, plus the stress! And how could I spend another night without my baby?
All of the lawyers talked behind closed doors and it was decided that if all of us (Grant, my mom, myself, etc.) would come down to the Social Services office we would make a "Safety Plan" and if we agreed to it, with my mom staying with us, Tyler would be able to come back that night! So that is what we did. At the meeting the Social Worker's supervisor said the program that the Director of the daycare had referred us for was not in place in our county yet. The "lighbulb" went on! Grant and I realized what had happened!  The Director's referral was treated like a complaint and the caseworker was too stupid to realize the difference!
We signed the Safety Plan and Tyler came home that night.  Our lawyer said she had never seen someone get their child back at the first hearing!  We ran to the social worker's car to get him.  He saw me first.  "Mommy!, he said.  Then he looked at Grant. "Daddy!"  I was so excited, this "disabled" person lifted her son our of the car and took him all the way up to the second floor in her arms.
On Tuesday we were in court again.  There were many lies told by the Social Services lawyer during the hearing, such as that we didn't diaper Tyler, we did not feed Tyler, our house was "cluttered".  I was so angry.  I took notes and I told my lawyer I wanted to testify. Among other things I said that just because it is hard to diaper Tyler does not mean that we are NOT diapering Tyler. We diaper him every day, as often as he needs. And just because I found it difficult to cook home-made meals did not mean he WAS NOT eating. And that our house was as cluttered as much as anyone who has a two-year-old and that we had a professional cleaning service every two weeks.
Our lawyer moved to have the matter dropped but the judge said she wanted Social Services to supervise. We had to go to court every so often, and we had to have someone else with us in the house with us at all times when Tyler was home.
We agreed or we could not get Tyler back.  For nearly six months we were subjected to being watched by health aids and being dropped in on by Social Services.  Finally, after six months our case was closed.
I am very angry that they view disabled people as helpless!  How can the government get away with this?  With their reasoning, anyone who is low income or sick is a danger to their kids.
Tyler has never been the same since.  The baby who slept through the night even when he was sick has never slept through the night since.  He suffers from Tourette's Syndrome, Separation Anxiety and possible OCD.  A doctor told us that while technically he cannot remember what happened, it is "imprinted" on his brain.
Ever since then I let few new friends in on my condition and am careful about what I write as well as writing under a pen name.  I would never joke as so many of the other moms do that I need a drink after dealing with my child.  I worry when Tyler falls and gets a bruise.  I am so afraid of anything being taken the wrong way. I thought this was America where you were innocent until proven guilty but it was not the case for us.
Although time has healed me somewhat, I will never forget the day they took my baby away from me, just because I was sick.