This post was inspired by Mama Kat's Writer's Workshop.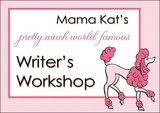 Having lived in central New Jersey for over 30 years of my life, I have often thought about my dream home and even have my dream town all picked out, should I win the lottery.  The town is one of the oldest in New Jersey, Cranbury, and was first settled in the late 1600s.  It's "main drag" is Main Street, and contains old churches, book stores, boutiques, antique shops, and very nice places to dine al fresco or inside a warm cozy inn.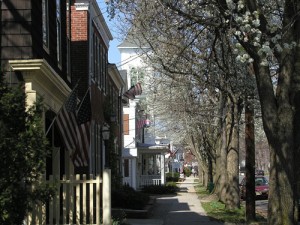 Most of the houses now standing were built in the late 1800s or early 1900s and are well kept.  I have often dreamed about living in one of those homes.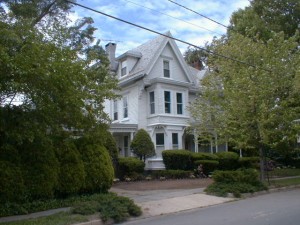 So, with my lottery winnings I would like a home in Cranbury that has kept it's old time charm but has been completely renovated as I am not one to DIY.  The rooms in the homes on Main Street are small but cozy and they have fireplaces and I would love to decorate it true to the time period.  Many have roomy porches and backyards that are just the right size, and I think my family of three would fit in very nicely there.  I long for a small town feeling, idyllic type of life that Cranbury and my home would provide while still being fairly close to New York City, Philadelphia and the beach.  Could you ask for anything more?
That is my dream home and location were I to win the lottery.  In real life, as some of you might know, my husband and I are both disabled and we are lucky to be living in the apartment that we have grown out of some time ago.
One of the dreams I had for my son was to give him a home with a backyard to put a swingset in and trees to climb on, in a town that had a real "neighborhood".  I have suffered from chronic illness since 2003 and in 2008 had to stop working when I was diagnosed with Lupus. Of all of the things that Lupus has taken from me, it was this dream I had for my son that I cannot reconcile with or accept that this cannot be.  It has become an obsession with me, so much so that I need therapy and medication for it.  It was so bad for a while that if I even saw a cartoon of characters living in a house or playing in a backyard that I would cry.  And I know that is absolutely crazy, know it, but yet there it is.
I don't think wanting a home for my child is too much to ask in this country that we live in.  It is the least of what my sweet little boy deserves.  And I know that one day he is going to ask me, "Mommy, why don't we live in a house?", and I feel as if it is all my fault, even though I know I had no control over it.  I feel that I have failed my son and fear that someday he may blame me for it.
My only hope for a home is for Grant and I s' disability/social security to finally go through and then we will move out of this crazy expensive state that is New Jersey and rent a home. Even just renting a real home would make me so happy, even if it is a small one.  I feel so adrift here and cannot bear the uncertainty of our lives.
So, if you are someone who prays, thinks good thoughts, or wishes people good vibes, I ask you to think of me, who, while not necessarily able to have my dream home, will someday get a home that I dream of for my family.  Thank you.