Inspired by Mama Kat's Writer's Workshop.

Prompt 4)  Share the story behind your current Facebook profile photo.
Unlike most bloggers out there I do not have a Facebook for this blog.  It's something I've had on my "to do" list for, oh, six months now.  (I do have a Google+, Emily Cullen, if you care to follow, and I might as well throw in @mamasick on Twitter if you happen to fall in love with this blog today.)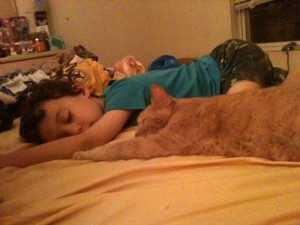 That is two of my favorite living creatures in the whole world.  My five year old son, Tyler, and my 14 and a half year old kitty, Lizzie.  I lost her sister two years ago and ever since then I take care to give Lizzie some lovin' every day because she is getting up there in years, although she is still very healthy and active.
Tyler is asleep on my bed (how cute is his little tush sticking up?) and Lizzie is not asleep, she is just stretched out next to him, purring with happiness.  It is one of the joys in my life that Tyler and Lizzie adore each other, especially when our other cat only likes my husband, even though I have known her for ten years!
I am glad that Tyler loves cats as much as Grant and I do because it was our love of cats that brought Grant and I together, and without them Tyler wouldn't even be here!  He loves to touch Lizzie's wet nose and to pet her.  The two of them play a kind of "hide and seek" game and Lizzie will let Tyler chase her around the house until she tires out and hides in a place where Tyler cannot find her any more.
Lizzie is fascinated by everything Tyler.  She always wants to know what he is doing.  When he is sleeping she will often hop up on the bed or wherever he is sleeping and sniff his face and toes. I wonder if she is aware of how he is growing; does she remember him as a tiny baby and does she wonder why he keeps getting bigger?
I have known Lizzie since she was two weeks old and as much as I will mourn her death when that time comes, I fear even more about how the loss will affect Tyler.  He was only three when Rosie died and he cried on and off for several months afterwards.  He always tells people he has four cats, two up in Heaven and two living with us.  (We lost Grant's other cat last year.)
We talk sometimes about getting Tyler a kitten of his own one day, but that won't be until Lizzie passes.
It will be nice for Tyler to have a cat for his very own to grow up with, but there will never be another Lizzie for him.