(Disclaimer:  The following account is my personal experience with a disability hearing and should in no way compare with anyone else's experience.  I do my best to research what I write, and seek to provide correct information to my readers; however I do advise one to do one's own research when it comes to a personal disability case.  Thank you.)
You may want to take a look at my first disability hearing last year.
My lawyer appealed the judge's decision, citing six reasons for appeal.  The judge's decision was then reviewed by a Social Security Disability employee who found five more reasons for appeal.  Because of this, my case was remanded back to the same court, with the same judge.  It was a complete "do-over".  The judge is obligated to look at you like a new claimant, with no prejudice.
As I waited for it to be my turn I saw a young woman in her early-20s at her first trial, sitting with her mother.  The court officer asked if she wanted an attorney and she replied no.  The officer said she had advised her of her right to an attorney, was she waiving that?  The woman said yes.  The officer walked away and I leaned over to her and said, "Are you sure you don't want an attorney?"
I thought about how judges and vocational expert witnesses can be sharks, how you can hardly understand what they are saying, how I could have never gotten through this without my lawyer.
And then the woman called the officer over and asked about how having an attorney works.  She did not know that it didn't cost anything to have one.  After speaking to the officer she postponed her trial until she could get representation.  I felt so relieved for her and good about me butting my nose into her business!
My lawyer came and I met with him.  All of the records from after last year's hearing up to today's were in.  He showed me a test that came from where I have been receiving therapy and psychiatric medication.  I don't know what the test was exactly but he happily said, "Normally they don't even consider people able to work at 50% and your scores are nowhere even close to that!"
Great for my case, yes, but was that true?  Was my mental function really that low or were they just trying to help me out?  It hurts to be scored that low, it feels very discouraging.
The judge was like a different person.  She thanked me for traveling to Newark and was gentle and patient.
I think a big reason why I lost the first time was that the judge did not understand the nature of my part-time voice-over work.  My hourly salary is high but I only get called one to two times a month to work, hardly what one would call substantial gainful employment.  And this year I had lost my only client of about 14 years, because I was too sick and disengaged to even contact them to tell them what was going on.  I told the judge it would be very difficult to try to cultivate new clients with my health being in the state it was in.
I had a lot of trouble understanding the questions the judge asked, due to my increasing memory loss and concentration difficulties.  If I answered it in a way that was harmful towards my case she would say things like, "Wait, are you sure this is what you mean?"
I don't know if my lawyer was faking it, but he did appear to be exasperated because I was so thick.  After my first hearing he told me that no one could ever testify any better than I did, now I am a different person.
Finally he yelled to me, " What has happened to you since the last hearing?!
I had notes to help me.  "Well…I have had some trips to the E.R. for uncontrollable pain.  I had to go in-patient due to the depression from bipolar disorder.  My son and I moved in with my mother due to my illnesses and for financial reasons.  While there I experienced delusions, hallucinations and suicidal ideation for many months.  I had extreme disengagement from my friends and family, including my son and my pet.  I lost my voice-over job because I wouldn't or couldn't get in touch with them.  In July I went to the E.R. wanting to go in-patient but my family convinced me not to do it…that's it."
When we started to talk about why Grant was in Ohio and Tyler and I were in Massachusetts, I completely lost it.  I couldn't stop crying and I had to go out of the courtroom to calm myself.  Grant got me tissues and made me take deep breaths.
The last thing that was left in the hearing was the vocational expert where she tries to find jobs that she thinks someone with my physical and mental abilities can do.  I think my lawyer did a pretty good job of shooting her down.  (This is the part where you really need a lawyer.)
As we closed the hearing the judge again thanked me for coming and she said, "You will have my decision within 30 days."
It took her five months to give me a "No" the first time.  If she rejects me this time she is going to have to address all 11 objections with her first decision raised by my lawyer and the Social Security Administration.
So, I would say I am cautiously optimistic but also aware that anything could happen.  I only hope that justice will finally be served.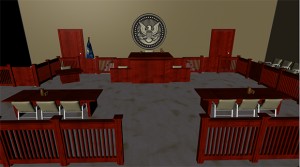 Photo Courtesy of:  3D Model World