Even thought we had a frost warning a couple of days ago here in Cleveland, I think it is safe to say that spring is finally here!
And to celebrate, I am so pleased to be working again with artist Robin Maria Pedrero!
I love Robin's art; the birds and butterflies, the colors she uses…just seeing her art makes me feel peaceful.
Robin thought her "Pink Poppies in Paradise" would be the perfect piece of artwork for a contest.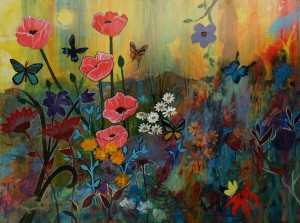 "Pink Poppies in Paradise is a piece I worked on for 6 months, there are layers upon layers of details from botanical and bugs to bottle caps and a key and spool."
The artwork is hand titled and signed.
You can enter in three easy ways:
1) Comment below.
2) Facebook it with the link and let me know you did that by commenting below.
3) Tweet out the contest and let me know you did by commenting below.
So if you do all three, you will have three separate entries!
The contest will run until Tuesday, May 27th until 11:59 p.m. and a winner will be chosen at random. Good luck!
Congratulations to our winner, Deb Schaefer, who won a copy of Robin Pedrero's "Pink Poppies in Paradise"! Deb needs to get in contact with me by 9:30 a.m. on June 6th or I will have to pick another winner.
Thank you all so much for entering my contest! I hope you will come back to my blog soon!
Love,

Emily