I have been given this product as part of a product review through the Chronic Illness Bloggers network. Although the product was a gift, all opinions in this review remain my own and I was in no way influenced by the company.
Recently I had the opportunity to try Legatto, an Intimate Massage Oil for Her from the company Resonant Botanicals.
The company's creator, Michael Yocco, combined his love for music and herbs to form Resonant Botanicals, with a focus on natural herbal healing. Yocco's great grandmother and grandmother were herbalists and concentrated their efforts on healing and calming remedies. Yocco and Resonant Botanicals believe that there is great value in relieving pain and anxiety without prescription medicines.
The company feels there's a number of things that set them apart from other natural herbal lotions. Their organic herbal blends combined with therapeutic levels of MSM and Magnesium Oil bring an added dimension of relief. A great deal of research, careful thought and testing has gone into designing the entire line of Resonant Botanicals products. Their products are scientifically designed to bring immediate relief and long term cumulative improvement. Other products include Invigorate and Qi of Calm.
Legatto for Women combines organic oils and infused herbs that combine to warm your heart and allow you to receive and give all the joys of intimacy with your partner. The organic oils include Grape Seed, which has twice as much Vitamin E as olive oil and is an antioxidant, Hemp oil, which regenerates, energizes and moisturizes the skin, Jojoba oil, which is full of nutrients and antioxidants  and Argan oil, which is used as a skin moisturizer to hydrate and soften skin. Indeed, Legatto is a great oil to use on your hands and feet, or anywhere else your skin gets dry, especially in the winter!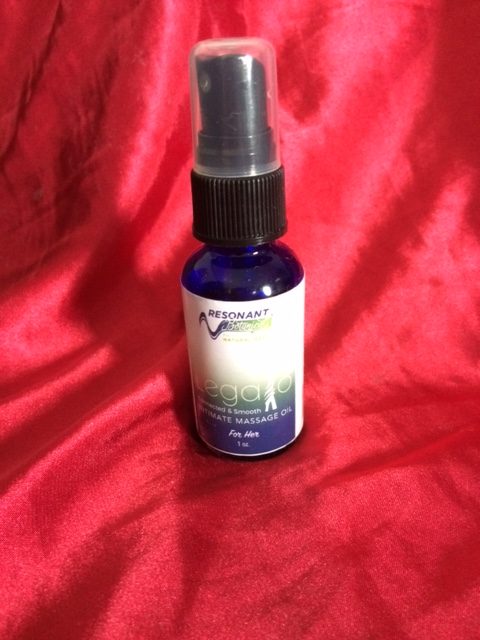 Another thing I really like about Resonant Botanicals is it's "Pay it Forward" program, to share products with less fortunate people for natural pain and anxiety relief. Customers and friends may contribute to the program through a donation which will be applied to the cost of an Invigorate or Qi of Calm two ounce lotion. If you are in need, send your mailing address along with your product preference. Once the Program is funded, they will ship it to you at no cost.
After learning about the company it was finally my turn to test it out! I sprayed the oil on my hands and noticed that the scent was just right for me. I always like a little bit of scent and I don't want anything to overpower me. My boyfriend used Legatto to give me a full body massage. The oil absorbed into my skin and wasn't greasy. I suffer from anxiety and I did experience a calming effect. The massage was good for both of us and we went on to a more intimate night!
Between the company's philosophy, the oils and herbs in Legatto and the effect it had on my boyfriend and I, I can absolutely recommend it!