My husband, Grant, loved Harold and the Purple Crayon by Crockett Johnson as a child and was determined to pass on his passion to Tyler.  And for better or for worse, he has succeeded.
For those unfamiliar, "The Harold" series revolves around a boy who can step into an adventure by drawing with his purple crayon.  The 50th anniversary of the original book was published in 2005 and a year later Grant bought Tyler four of the books…while he was in utero.  Grant liked reading the books, among others, to Tyler while he was still in my tummy.
We brought Harold back into Tyler's life a few months ago.  HBO is doing an animated Harold series, and while not exactly being true to the book, is still pretty imaginative and entertaining.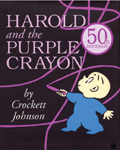 Tyler's first reaction to Harold was to immediately take a crayon to our walls.  Now he enjoys going "for a walk in the moonlight" with the biggest purple crayon we could find.  Actually we've had to buy several as he often loses or misplaces them!  We even got one "autographed" by Harold.  "To Tyler from Harold.  Keep drawing."  He colors everything purple and all his drawings are purple. We often must try to quiet his protests when we tell him he can't take his purple crayon in the bathtub, the potty or to daycare.
But liking Harold hasn't really been a bad thing for Tyler.  There are some major 50 cent words such as "ermine", "edifice" and "Uranus" in the books, and it really has brought out some great creativity and imagination in Tyler.  We'll just refer to this as his "purple period."