I read Following Polly as a member of the From Left to Write book club.  I was given a free copy as part of the book club.
Most people enjoy a certain genre of books, such as non-fiction, popular fiction, or true crime. Before joining this book club, I was very into cozy mysteries.  These are books that are usually pretty light to read and often are written in series where the main character always stays the same.  They are real curl up books.
When I read Following Polly by Karen Bergreen, I found myself back in my comfort zone  again, which isn't the worst zone to be in!
Thirty-something Alice has been a follower much of her life, passively going along.  Like the time at Harvard when she was in love with a student.  She didn't even know his name, so she made one up for him. Polly also lives under the shadow of her famous actress mother.
When Alice loses her job she catches sight of Polly Linley Dawson, former Harvard alumna and the bane of  her existence.  She's beautiful, she sells high end fashion, she's rich. In short, she is practically the opposite of Alice.
Who wouldn't want to follow Polly?* Okay maybe you wouldn't, but since she doesn't have a job any more Alice decides to follow Polly.  Unfortunately she is a little too good at this and ends up as a suspect in Polly's murder.
And that's as far as the book jacket summary will take you!  I would describe this book as a mystery wrapped up in a comedy wrapped up in a dialog.  The kind of book you could finish in a day or two, if you didn't have kids.
Following Polly is funny, has great conversation and a good mystery.  Some people think any mystery is supposed to be is suspenseful and graphic.  This is not that kind of book and if you are looking for that in this book you may not want to pick it up.
But there is a murder, there is mystery, there is adventure;  done in a comedic way that I found very enjoyable and fun.
Karen Bergreen is a stand-up comedian and this is her first book.  I had the opportunity to ask her if  Alice was going to turn into a mystery series.  She said that she is now working on a book in the mystery genre but would love to turn Alice Teakle in to a series at some point.
I, for one, would be very happy to cozy up with Alice again.
* Yeah, if I had nothing to do, I wouldn't mind following Jennifer Aniston, no, scratch that I would like to follow
Ryan Phillippe
.  And yeah, I have stalked old boyfriends before, I admit it.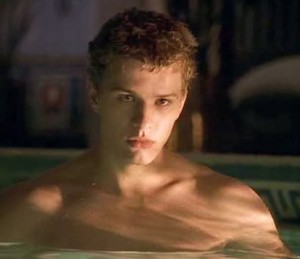 Would you like to win this book that has never been to the bathroom?  Entering is easy!
1.  Just leave a comment below and 2.  Tweet out this post and let me know, in a SECOND entry.  This gives you two chances to win!  The contest will end at 11:59 p.m. EST on October 25th.  Good luck!
Congratulations to Jennifer on winning "Following Polly"!  Her entry, #4, was chosen by random.org.
Thanks to all who entered and be on the look out for more contests and opportunities at Mama Sick!