Inspired by Mama Kat's Writer's Workshop.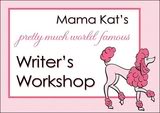 Well I have a lot of stories to pick from so I'll just start with the "best" one and keep going until I think this post is long enough.
Before I was a sick, married, mom and lady, I had, uhm, quite the "youthful indiscretions". They would surprise you, they might change your opinion of me.  But this one won't, or shouldn't.
In my college days and early 20's I was quite the drinker.  Not an alcoholic but of the thinking "Why would you drink unless you wanted to catch a buzz"? crowd.
It was July 4th weekend around 1994 on Long Beach Island (sorry, my hyperlink is not working, LBI isn't exactly the Hamptoms, but it is a fairly nice resort town in New Jersey). My friend had invited me over for a weekend of partying.
Unfortunately that week I had broken up with my boyfriend of five years, for good.  I was a mess.  "That is an especially good reason to come", she said.  "Forget about him!"
And so I did.  Everyone who knew me and even those who didn't, she would tell my story to, and everyone who knew me and even those who didn't would buy me a drink.  Maybe eight drinks, maybe a dozen, who knows?
Needless to say I was exceptionally drunk.  Whatever time we packed it in, we went back to her brother's house, whom he shared.  I was inside and felt like, "Uh-oh, I need some air…now!" and proceeded to gracefully throw up off his balcony.  In my state of mind, that seemed like a good place, on the ground, no clean up needed!
And then…it was morning.  I woke up in my pajamas with an unknown guy in bed with me who gave me a dirty smile and said, "You were great last night".  He was kidding, right?! Somehow I had put my pajamas on, taken out my contact lenses and gotten into a bed with a man, or was it the other way around? Don't worry, I could tell I had not had sex, I could just tell, ya know?
I did, however, have the worst hangover ever.  I shakily showered.  My friend's brother said to her, "Which one of your friends threw up"?!  I confessed.  "You got it all over my neighbors backyard ,they are so pissed off!", as he was hosing it away.  It has seemed like such a good idea at the time…
We all went to brunch.  I could not look at food.  Seriously, I had to wait outside.  Our plan was to spend the day on the beach but my plan was more like I spent the day in bed.  My friend was so angry at me, our friendship was never the same since.
I was hungover for THREE days.  After that, I decided my youthful drinking days were over.
Well will you look at that, I guess another drunken story will have to wait for another reason for me to post one.  Thanks, Mama Kat!