First off, I am sorry that I have not been able to blog sooner.  The mere act of skipping a nap on Monday and packing Tyler and I s' clothes, the drive to the hotel, etc. has left me extremely ill.  Right now Grant and Tyler are at a library program, Reading to a Therapy Dog, so I figured I would get started. By the way, if it wasn't for the library, my child wouldn't be having much of a summer.  I fear the cutting of those programs.
It turned out, no surprise, that my Maquest's directions to the hotel were…WRONG!  They got us to Newark, but that's when they stopped being so helpful.  After stopping a couple of times to ask directions, I finally spotted the side of the hotel out of the corner of my eye. Three handicapped spaces for the WHOLE hotel.  I'd write "The Great Eastern Hotel" if I had the time, they were never not filled up.  While we were checking in, we asked if the front desk people knew where the courthouse was.  They said yes, it was very close by, but we decided to get directions in the morning. Having filled up on McDonalds (probably my first time in over 10 years) we didn't need any dinner and I had packed plenty of healthy and unhealthy (comfort) food snacks.
Tyler had been a little scared of this whole outing.  A few months ago he asked me,"Mommy, what is a vacation?", something that I feel no child should have to ask his mother and it really broke my heart, thinking of Grant and I s' childhood.  I never remember NOT going on vacation.   But he and Eeyore enjoyed the amenities offered by the hotel: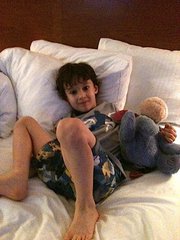 and our view:
Even Eeyore pondered the view: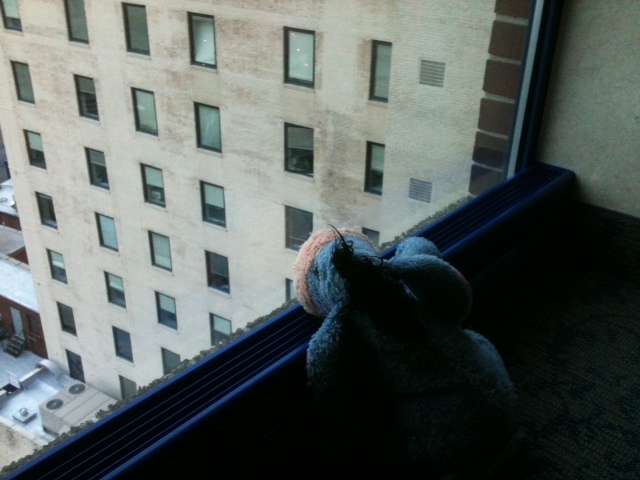 We watched t.v., had reading time, and Tyler went to bed around 11:00.  With the help of medications I fell asleep a little after 11:30.  David who?
When I woke up, God was I happy that we had stayed over and that I had set my alarm and wake-up call back-up for 7 a.m.  I could not walk, I could not stand up straight.  I was walking as if I was a baby "cruising".  I woke up Grant and asked him to make me a cup of coffee, while I popped a pain pill and laid in bed, waiting for the pill to take effect.  Tyler had fallen asleep like a dog in our queen sized bed and he slept on.
Even though I was still not feeling well, I had to get up and shower…and iron!  Grant got Tyler up as just the two of us were going to go down to breakfast, complimentary!  Our lives are so pathetic, I actually enjoyed being in a REAL hotel.  I haven't been in a hotel since they had flat screen t.v!  The hotel served a lovely breakfast.  Tyler is such a character.  EVERY person he meets he says, "Hi, I'm Tyler, I'm four-and-a-half, almost five!"  Most people think it is very cute, some either do not hear him, or at least, pretend not to.  Then his feelings get hurt and I have to tell him that he has a little voice and he is a little boy and people are tall and cannot always here him, or they are too far away.
Knowing we were just two blocks from the hearing, I cut it pretty close, we left at 9:15 as I was supposed to meet my lawyer by 9:30.  I stopped by the front desk and asked about the courthouse. "What courthouse two blocks away?" was my answer from BOTH of the front desk people!  They started to look on their stupid computers but they could not help me.
"Forget it!" I said and we rushed out to the car.
It was a bit like out of a movie but thanks to some kind Newark…ites?….Newarkarians?…and many illegal turns and the wrong way down a one way street, we finally got there.  I was late.  I had called my lawyer's office while Grant was driving and told them that we had gotten lost but we were close and I would DEFINITELY be there.
At about 9:36, we pulled up to the courthouse.  The plan was for Grant and Tyler to go back to the hotel, chill out, watch television, maybe read or do a puzzle, etc. while I was in for one of the most hellish days of my life.  But what else could we do with Tyler?
And so they left me with kisses, I love yous and good lucks and there I stood, alone.
END OF PART I
(Please note that I put up only part of the story because it is a very long one and I was getting many requests.  As many already know, what happens next is honestly quite brutal and I have been mentally damaged from it, as well as physically.  It might be a couple of more days for the next either part or conclusion, depending on how it writes out.  I plan on having my usual rest of the week, doing Mama Kat's tomorrow and hopefully Friday Fragments.  Blogging this story will be extremely difficult for me but I feel strongly that sick people who are wondering what a hearing MAY be like might want to experience mine, and that well people should realize what we chronically ill people are going through in these fine disability courts in this country EVERY DAY.  Thank you.)
Also special thanks going out to Cynthia Biaggi, @MomBto3, a wonderful friend who lent me the money so that I could stay in this hotel.
"True friends do not value you for what you can do for them – they simply value you." Ruhani Rabin