Inspired by Mama Kat's Writer's Workshop.

Prompt 3.  The first day of December is upon us!  Describe an Advent calendar or a special way you count down days until Christmas (past or present).  Inspired by (Classy Chaos)
For years, long before Tyler was born, I had a cute wooden fireplace with numbers that as each day you pulled one out, Santa would move closer to the chimney until on that last day before Christmas little Santa was in your fireplace.  But that's 24 numbers to take care of and it was a Christmas miracle in itself that we held onto all those numbers as long we did, especially with both cats and a child to occasionally knock the fireplace over and to play around with those numbers.
This year I was determined to buy an Advent calendar a little closer to the true meaning of the season and then I saw this: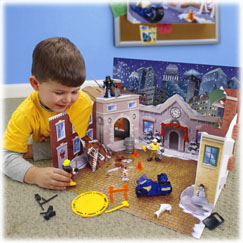 The Fisher-Price Imaginext Advent Calendar in which, according to Fisher-Price:  "Combines the excitement of Imaginext and the holidays with a fully assembled Advent calendar!"
I knew that Tyler would love it but I hesitated.  It was about as far away from the true meaning of the season as you could get.  I waited on it.
Already a typical man at five, Tyler likes to look at a magazine or catalog when he "does his business" in the bathroom.  One day he asked for a magazine and I handed him the Fisher-Price Holiday Catalog.  After spending a fair amount of time in the bathroom, Tyler came out and said, "Mommy, I want this for Christmas", pointing to the Imaginext Advent Calendar.
My mind was made up.  I can't wait until he comes home from school tonight and we show it to him.
Yes, I will have made my little boy very happy.  But I probably haven't exactly scored many points with God and Jesus.