Grant and I had decided to have our own little Mother's Day the weekend after because my mother was staying over and my brother and his wife came over on the actual holiday.  It was your typical dysfunctional family holiday and I think Tyler just got his first taste of it that day! Whoa, what's with this family?
Anyway Grant and Tyler were excited to give me my Mother's Day presents.  I really didn't want any presents but I knew that Grant would do it anyway so I told him to get me bed linen spray, a luxury that I have long since given up on.  And Tyler could barely keep the secret of my "superhero" pajamas: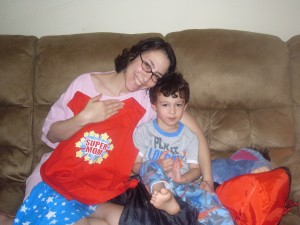 We went to a late breakfast at IHOP.  I love that place because everything comes with pancakes, even the pancakes come with pancakes, so you don't have to feel guilty about eating pancakes.
Then we finally got to do something with Tyler for the first time…fly a kite!  I picked out a Spiderman one for him and we all went to the park.  It was windy but was continuously changing directions so Tyler had a little trouble keeping it up but I did pretty well!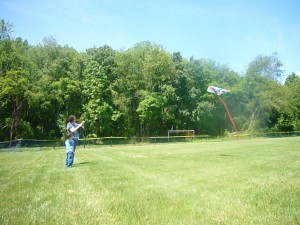 Here is a nice one that shows Tyler right by my side, which he was for most of the whole time we were there.
I really enjoyed having my own Mother's Day with our little family.